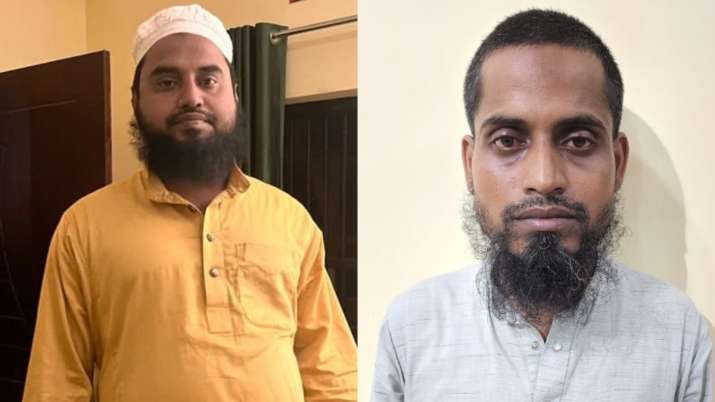 Assam police arrest 11 with links between Islamic fundamentalism and global terror groups
Strong points
Assam Police arrested 11 people from Morigaon, Barpeta, Guwahati and other districts
They all have alleged links to Islamic fundamentalism, links to terrorist groups
Numerous electronic devices and incriminating documents were seized
Assam Police have arrested 11 people from Morigaon, Barpeta, Guwahati and Goalpara districts who are linked to Islamic fundamentalism with links to global terrorist groups Al-Qaeda in the Indian Subcontinent (AQIS) and Ansarullah Bangla Team (ABT), said GP Singh, DGP Special L&O, Border, Director V &AC, Assam.
Post this action, Jamiul Huda Madrassa building in Sahariagaon, Morigaon has been sealed as it is suspected to be a port/shelter/camp for detainees.
Many electronic devices and incriminating documents were seized from detainees.
Further research and operations are underway to uncover the links and the network.
"It is the result of a long surveillance operation by the police and central agencies of Assam," says GP Singh.
According to the police, they arrested a madarsa teacher and detained five other people from another madarsa in Morigaon district. Similarly, seven people from Barpeta, one from Guwahati and three others were arrested in the state capital on Thursday.
All are suspected of having links with terrorist groups like Al-Qaeda in the Indian Subcontinent (AQIS) and Ansarullah Bangla Team (ABT).
In the Saharawi village in the region of Moirabari in Morigaon, the police arrested the mufti Mustafa Ahmed who heads Jamiut-ul-Huda Madrassa. The police received a specific complaint about some suspicious activities taking place in the premises of the madrasa, which is located next to Mustafa's house.
The police seized a few mobile phones, bank books and other "objectionable" documents in his possession. Mustafa was suspected of operating terrorist modules from his madrasa.
Morigaon Police Superintendent (SP) Aparna N. told IANS that after questioning Mustafa, the police presented him in court on Thursday afternoon.
Meanwhile, police arrested five teachers from another madrasa, intended for girls, in the Saruchala area of ​​the district. SP Aparna said: "Their interrogation continues, we have not arrested them so far."
More details can only be released after further investigation, she added. It was learned that the two madrasas were located in the inner areas of the district.
Reacting to the developments, Chief Minister Himanta Biswa Sarma said, "Government run madrasas have already been closed in the state. These are two religious madrasas. We have already closed one and the District administration was ordered to move the children from there to a nearby school."
Assam Special DGP (Law and Order) GP Singh said that in the past 48 hours a total of 11 people have been arrested in the state for allegedly having links with terrorist groups. The police conducted a surveillance operation to put an end to terrorist racketeering in the state.
State DGP Bhaskar Jyoti Mahanta said AQIS had shown signs of expanding its base in northeast India. Recently, Al-Qaeda leader Zawahiri appealed to his groups to interfere in Assam, Assam police chief said.
He added, "Their quarterly magazine is now published in Bengali, with the aim of radicalizing young people in Assam, which can be very dangerous."
(With contributions from IANS)
READ ALSO | Murder of Karnataka BJP worker: leftist-led Kerala safe haven for radical elements linked to PFI, says Union Minister
READ ALSO | Note from Rashtrapatni: When Sonia Gandhi said 'don't talk to me' to Smriti Irani
latest news from india