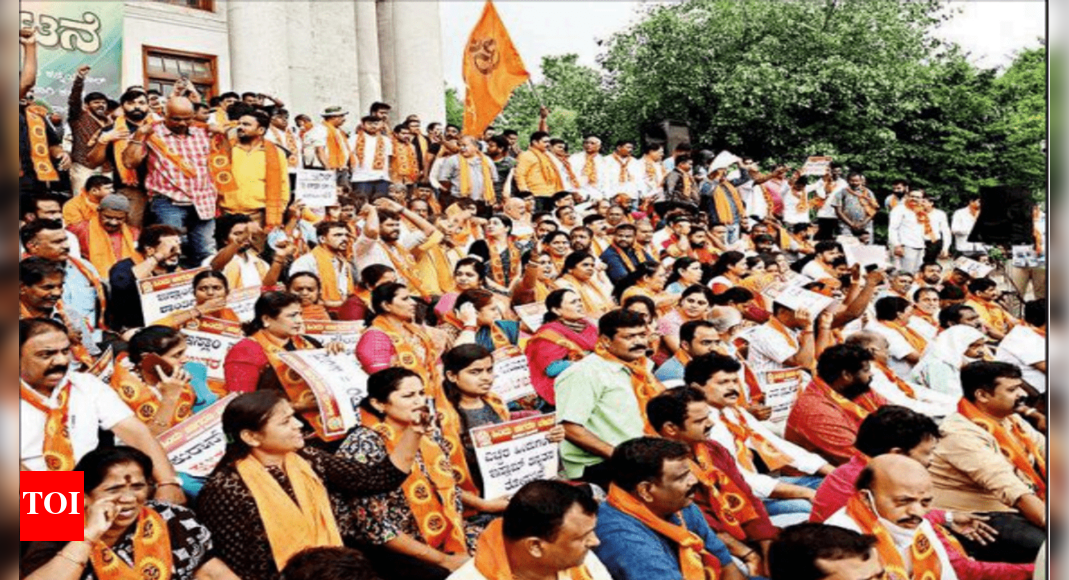 India should emulate model to tackle fundamentalism: Kateel | Bangalore News
BENGALURU/SHIVAMOGGA: Condemning the beheading of a tailor in
Udaipur
Rajasthan for supporting former BJP spokesperson Nupur SharmaKarnataka BJP leader Nalin Kumar Kateel has said the country should emulate the model of Uttar Pradesh Chief Minister Yogi Adityanath in tackling religious fundamentalism.
"The incident in Rajasthan is a challenge for humanity. To foment violence, riots and murders are planned, and society is shattered. All of this is done in the name of jihad. The incidents that happened in Jammu and Kashmir are also happening in other states. There is a need to take a strong stance on incidents such as those taken by UP CM Yogi Adityanath," Kateel said.
He alleged that a "foreign hand" was behind the incident and the riots in Rajasthan, adding that the incident happened due to the inefficiency of the Rajasthan government and the politics of appeasement followed by this one.
Kateel also alleged that there is a systematic attempt to cultivate a jihadist mindset in society. "The murder of activist Bajrang Dal Harsha in Karnataka had also taken place along the same lines. Such attempts must be nipped in the bud," he said, adding that there should be fear among those attempting to stage beheadings and other activities.
BJP Senior MP KS Eshwarappa has called for a debate at the United Nations on the threat to Prime Minister Narendra Modi's life. He said that since the defendant had also threatened to kill the prime minister, there could be a role of foreign elements in the Udaipur murder.
He also said the murder charged in the Udaipur incident should either be hanged or shot immediately. Eshwarappa said there was no need to proceed further in the case as the defendant admitted to the crime in the viral video.
BK Hariprasad, a senior Congress official and leader of the opposition in the Legislative Council, condemned the incident and said, "This is a country where people of all religions live in peace. Death should not be glorified.
Interior Minister Araga Jnanendra called the killing barbaric and inhuman, and demanded the maximum sentence for those arrested. Former CM HD Kumaraswamy called it a "demonic act" aimed at suppressing free speech and demanded the harshest penalties. Opposition leader Siddaramaiah said: "I strongly condemn the barbaric act of beheading an innocent person in Udaipur. Nothing can justify such brutality and the perpetrators must be punished.