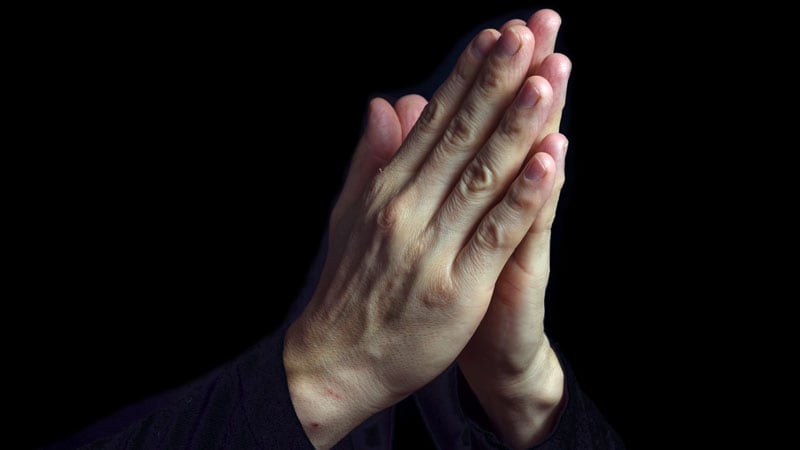 Religious fundamentalism and anxiety of the elderly
I was a resident, young and naive, when I ran into my neighbor in the hospital hallway as he was leaving a psychiatrist's office.
"Why are they you I asked, thinking my neighbor, a professor of theology, had a professional reason to meet with a psychiatrist, perhaps some sort of community project. When the question escaped my lips, however, I had an instant sense of regret and made a bold, all caps "personal note" with a few exclamation marks: Never ask friends or neighbors why they consult a psychiatrist.
Fast forward several decades, and I got an email from this neighbor. Charles Marsh is now a professor of religious studies at the University of Virginia, director of the Lived Theology Project, and author of several books. He sent me a link to an article he had written about his treatment for an anxiety disorder and let me know that he was working on a book on the subject. I later received the galleys for his manuscript, Evangelical Anxiety: A Memoir, which was published last month by HarperOne.
Marsh begins his story as he sits with his family in church, listening to his pastor's sermon. It is a quiet April day, and as they are throughout this memoir, his descriptions are so vivid that the reader sits beside him in his familiar pew there in that church that Sunday, seeing what he sees, feeling what he feels. , and feel what he feels. The pastor entrusts a wish to his followers: he would like them all to have a nervous breakdown in their youth. He goes on to say that if Martin Luther had lived in the days of Prozac, his inner turmoil would have been appeased and there would have been no Protestant reformation. Professor Marsh then gives us the first of many humorous moments – he rushes home and swallows an Ativan tablet.
Marsh focuses on a single dividing point in his life, one day in the fall of 1981. He was resting on his bed in his dormitory at Harvard Divinity School at the ripe old age of 23 years, 6 months, and 3 days ( but who's counting), when all he was has changed. He described what he experienced that night:
It was then that a great pandemonium tore away everything that protected me from the outside world. I was no longer a single person in his room. In an instant, I could hear all the things inside my body in their deepest repercussions. My heart and its soft aortic murmur, every exhale and every inhale of my breath, the descending silences, the labored inhale, would this be the last? How loud does the body make when amplified by fear! I could hear the hiss of molecules colliding. And outside, in the yellow night, compressors rumbled atop the nearby physics building, the sound of car engines and slamming doors. All those things I heard like tormenting assaults, a soundscape that I couldn't cut out. I would become a thought thinking of thinking itself and nothing else, the old curse of metaphysics. A cogitation running through each autonomous function of the body, placing a question mark on each like flowers for the dead.
That moment in time — that "breakdown," as Marsh repeatedly calls it — bifurcated her life. He went from being a person who lived "…disguised as myself as shameless and free" to someone who could no longer find an escape in his reading, who struggled in his own skin and mind, and who, for want of a better description, was tortured. The "breakdown" passed and Marsh diagnosed himself with generalized anxiety disorder.
That night, he did not go to the emergency room or seek help from services available to Harvard students. There was no psychiatrist, no therapy, no drugs. It was, for him, with his fundamentalist Christian background, a kind of religious event.
I counted all the joy if I had to suffer. My pain, the sin sickness of my soul, was not unintelligible – it was a kind of blessing, something that could draw me, like a medieval saint, to the suffering of my Lord, something that would testify without a word of my heroic effort to achieve purity. . And, at least during these last days of the fall of 1981, the heavens above and the earth below, the spirit and the flesh, felt miraculously aligned. Although in pain, it was the life I had dreamed of.
Charles Marsh grew up as the son of a Baptist minister in the Deep South at a time when the civil rights movement was reaching a fever pitch and life was marked by fear and change. The memoir is not just about one man's struggle with an anxiety disorder, but a beautifully written account of an evangelical Christian's life during a tumultuous time of racial tension and horrific violence. It details his life as an only, lonely child in a God-fearing world shrouded in darkness, a world where he struggled to belong and called for his mother at night. Within this world, Marsh sought his own religious identity, with the pride of being a high school "Jesus freak", running alongside his repressed and frustrated sexual desires.
It was a world of good and evil, heaven and hell, only the two became so confused as he spoke of his life full of fears: The windows were barred; violence and fear were at the heart of his hometown of Alabama, "the epicenter of white terrorism", then later when his family moved to Mississippi. He feared the barking dogs guarding the houses, the bullies who tormented him, and the bullying he, too, joined in. He feared switch-wielding adults – his mother, principals, coaches and youth pastor, all set on "breaking the child's will", a term he explains to be a Christian concept in which the own the will of the child is broken so that he is submitted to his parents and to God.
Marsh wanted so badly to be good. And we're not sure he even knew what it was as he struggled with his desire to conform and belong, and his all-pervading sexual urges. Even as an adult, he was certain that his mother would know if he had premarital sex and that he should kill himself. Sex outside marriage was the only unforgivable sin.
He suffered in silence and shame. It was only a few years later that he entered psychotherapy as a doctoral student. When he moved to Baltimore he again looked for a therapist and eventually ended up with a psychiatrist who was training as a psychoanalyst at the hospital where I was intern. This psychoanalysis proved to be transformative and healing, but first Marsh had to reconcile his treatment with his religious beliefs, as therapy and fundamental religion take different paths.
Analysis and faith cross similar ground – they understand how language and storytelling heal. They can see each other as strangers or competitors, but it doesn't have to be. Like prayer, analytical dialogue slows down to meditate, meander, reconstitute, redeem; both inspire the mind toward hope under the influence of an empathic listener. Neither needs the other to realize their truths, but they follow parallel paths in the mysteries of human beings, where all truth is God's truth. It's more than good that they don't merge or collide.
He goes on to describe how powerful the process has been for him and his recovery.
Analysis is the space where one feels – where I have felt embodied, in the quiet hours of months and years – a trust in the beautiful interplay between the center and the extremes. My body and mind would not be elevated to resurrected splendor during the treatment. I want to emphasize the point. It was tempting to think that I would, that I would undergo a miraculous transformation. If not the resurrected splendor, then surely I would take the "new man". Instead, I was given the gift of mortal life: the freedom to be imperfect, to have fears and face them, to accept the breakup, to let go of the will to control all outcomes.
Gospel anxiety is a beautifully written book and a look at two worlds that may seem so secret to the outsider. Marsh's use of language is extraordinary; he has a gift for metaphors and descriptions, and he takes the reader by his side on a splendid journey. It must be said, however, that he assumes a lot: Marsh is a sophisticated scholar who mentions religious leaders, philosophers, historical figures and the occasional rock song, without patience for those who do not follow his rapid transitions and impressive vocabulary. ; I could have read this book with a dictionary next to me (but I didn't).
It's an illuminating journey, often sad and disturbing, sometimes funny and endearing, and ultimately uplifting. In our skeptical world where psychiatrists are so often defeated, it's refreshing to read a memoir where the psychiatrist is the good guy and the patient comes out healed and whole.
Evangelical Anxiety: A Memoir (HarperOne) was released on June 14, 2022.
Dinah Miller, MD, is co-author of Committed: The Battle Over Involuntary Psychiatric Care (Johns Hopkins University Press, 2016). She has a private practice and is an assistant professor of psychiatry and behavioral sciences at Johns Hopkins in Baltimore.